Sutton Touch a Truck 2015
Published June 2, 2015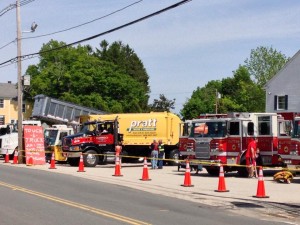 Al's Rubbish and Container Service, Inc would like you to join us at the third annual Touch-A-Truck, Sutton as it rolls into town on Sunday, June 14. Kids of all ages will have the chance to get up close, climb aboard, and explore many different kinds of trucks, cars, and other vehicles in a unique, interactive event to benefit the First Congregational Church of Sutton.
Last year, Touch-A-Truck, Sutton, hosted a crowd of approximately 800 people for a wonderful day of trucks, food, games, and good old-fashioned family fun. This year's event promises to be even bigger and better. In addition to vehicles, the event will again feature an assortment of carnival-type games, a bounce house, and rides on the Roaming Railroad, which is always a hit with the little ones. The event is expected to once again share town police, fire, and rescue vehicles, construction equipment, Direnzo tow trucks, a Pratt Trucking trash truck, dump trucks, antique cars and tractors and even a mobile pet grooming van from TLC Pet Haven. Jake the Lion, from the Worcester Bravehearts, will make a special guest appearance.
Tickets are $5 each with a max of $20 per family, and will be sold at the Touch- A-Truck gates at the First Congregational Church of Sutton, located on the common at 307 Boston Road. The event runs from 1 to 4 p.m., with a special horn-free hour from 1 to 2 p.m. where the setting will be more manaeagable for children with special needs or sensitive ears. For more information, visit the events page at suttonfirstchurch.org or find them on Facebook at Touch A Truck Sutton.
Dumpster Dimensions

10 Yard:  12' long x 8' wide x 3' high
15 Yard:  13' long x 8' wide x 4' high
20 Yard:  14' long x 8' wide x 6' high
25 Yard:  17' long x 8' wide x 6' high
Online Payments
Let the Rubbish Removal experts help you with easy online payments for all our services.

Want to order your dumpster rental online or pay your weekly trash pickup invoice? Click below to head to our online ordering system.
Our Dumpster Rental Service Areas:
Auburn
508-865-4193
Blackstone
508-865-4193
Bolton
508-865-4193
Boylston
508-865-4193
Charlton
508-865-4193
Cherry Valley
508-865-4193
Douglas
508-865-4193
Dudley
508-865-4193
Grafton
508-865-4193
Hopedale
508-865-4193
Leicester
508-865-4193
Marlborough
508-865-4193
Mendon
508-865-4193
Milford
508-865-4193
Millbury
508-865-4193
North Grafton
508-865-4193
Northborough
508-865-4193
Northbridge
508-234-7377
Oxford
508-987-2960
Paxton
508-865-4193
Shrewsbury
508-752-3900
South Grafton
508-865-4193
Southbridge
508-865-4193
Spencer
508-865-4193
Sturbridge
508-865-4193
Sutton
508-865-4193
Thompson
508-865-4193
Upton
508-865-4193
Uxbridge
508-234-7377
Webster
508-865-4193
West Boylston
508-865-4193
Westborough
508-865-4193
Whitinsville
508-234-7377
Worcester
508-752-3900

---

For Additional Delivery Fee

West Boylston
508-865-4193
Residential Weekly Rubbish Removal

Al's Rubbish now offers Weekly Rubbish Removal in the towns of Webster, Oxford, Sutton, and Millbury. We now accept ACH Payments for weekly pickups.
CALL 508-865-4193 For Our Rates.
Please note: We do NOT accept any amount of yard waste per dumpster; please CALL for yard waste pricing.