Front Line Workers: We Appreciate and Know How Essential They Are
Published April 24, 2020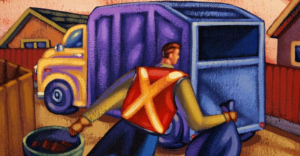 The declared COVID-19 pandemic that finally knocked on our door has made the importance of the chain of first response to the health crisis that goes beyond doctors and nurses highly visible. There we meet the police officers, port security, supermarket and food chain personnel, among others. However, the team that goes from house to house, to hospitals, restaurants and other locations collecting all the waste, that has increased even more during the quarantine, has not yet been made visible. There is still a very important "unsung hero" amongst our ranks, and it's about time we recognize their crucial role, I'm talking about our sanitation workers.
Their work is extremely essential to avoid outbreaks of infection and diseases that would make the present situation even worse or create a subsequent one that is not currently in our radar. There are reports that show that in 1918, when the world was fighting the Spanish Flu, major cities in the U.S. went through a crisis in solid waste crisis that in some cases had people walking over piles of garbage. In the absence of sanitation workers to pick up residential and medical waste, extreme measures had to be taken such as covering piles of garbage on the side of the road with dirt, to mitigate the health issues that the lack of adequate management of waste brought.
In that whole chain there are people involved, that nobody applauds or mentions because we really don't meet them and are taken for granted. But the work these men and women do, be it on the streets, in their trucks, transfer stations or landfills, is as important as the work of the many other professionals who every day are facing an invisible enemy while they do their work to protect us from further harm. It is important that we take our measures when disposing waste but also, for employers to put in place plans to keep them active, healthy and doing their jobs.
Dumpster Dimensions

10 Yard:  12' long x 8' wide x 3' high
15 Yard:  13' long x 8' wide x 4' high
20 Yard:  14' long x 8' wide x 6' high
25 Yard:  17' long x 8' wide x 6' high
Online Payments
Let the Rubbish Removal experts help you with easy online payments for all our services.

Want to order your dumpster rental online or pay your weekly trash pickup invoice? Click below to head to our online ordering system.
Our Dumpster Rental Service Areas:
Auburn
508-865-4193
Blackstone
508-865-4193
Bolton
508-865-4193
Boylston
508-865-4193
Charlton
508-865-4193
Cherry Valley
508-865-4193
Douglas
508-865-4193
Dudley
508-865-4193
Grafton
508-865-4193
Hopedale
508-865-4193
Leicester
508-865-4193
Marlborough
508-865-4193
Mendon
508-865-4193
Milford
508-865-4193
Millbury
508-865-4193
North Grafton
508-865-4193
Northborough
508-865-4193
Northbridge
508-234-7377
Oxford
508-987-2960
Paxton
508-865-4193
Shrewsbury
508-752-3900
South Grafton
508-865-4193
Southbridge
508-865-4193
Spencer
508-865-4193
Sturbridge
508-865-4193
Sutton
508-865-4193
Thompson
508-865-4193
Upton
508-865-4193
Uxbridge
508-234-7377
Webster
508-865-4193
West Boylston
508-865-4193
Westborough
508-865-4193
Whitinsville
508-234-7377
Worcester
508-752-3900

---

For Additional Delivery Fee

West Boylston
508-865-4193
Residential Weekly Rubbish Removal

Al's Rubbish now offers Weekly Rubbish Removal in the towns of Webster, Oxford, Sutton, and Millbury. We now accept ACH Payments for weekly pickups.
CALL 508-865-4193 For Our Rates.
Please note: We do NOT accept any amount of yard waste per dumpster; please CALL for yard waste pricing.