Spring is finally here!
Published May 7, 2015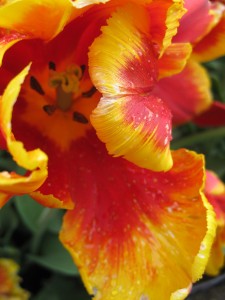 Well, finally the flowers have bloomed and the trees are budding. Spring is here in Central Mass after a very long winter. Many homeowners are now renting dumpsters for yard clean ups, cellar and basement clean outs. Our roofers are busy as well replacing roofs from the damage that was caused by the Winter of 2014-2015. Dumpster Rentals are at an all time high this Spring.
This has caused us to make a few changes. Al's has over 200 dumpster ranging in size from 10 to 30 yard. The demand for these dumpsters is incredible. Due to this fact we have had to temporarily change our rental time period from 10 days to 7 to allow for faster turn around time so we may accommodate all our customers. If you rent a dumpster PLEASE adhere to the NEW 7 day rental limit. Once the clean ups and the roofing has slowed down, hopefully we can return to our usual 10 Day Rental Period. We appreciate your patience with us as we try to service all our customers in a timely and professional manner.
Dumpster Dimensions

10 Yard:  12' long x 8' wide x 3' high
15 Yard:  13' long x 8' wide x 4' high
20 Yard:  14' long x 8' wide x 6' high
25 Yard:  17' long x 8' wide x 6' high
Online Payments
Let the Rubbish Removal experts help you with easy online payments for all our services.

Want to order your dumpster rental online or pay your weekly trash pickup invoice? Click below to head to our online ordering system.
Our Dumpster Rental Service Areas:
Auburn
508-865-4193
Blackstone
508-865-4193
Bolton
508-865-4193
Boylston
508-865-4193
Charlton
508-865-4193
Cherry Valley
508-865-4193
Douglas
508-865-4193
Dudley
508-865-4193
Grafton
508-865-4193
Hopedale
508-865-4193
Leicester
508-865-4193
Marlborough
508-865-4193
Mendon
508-865-4193
Milford
508-865-4193
Millbury
508-865-4193
North Grafton
508-865-4193
Northborough
508-865-4193
Northbridge
508-234-7377
Oxford
508-987-2960
Paxton
508-865-4193
Shrewsbury
508-752-3900
South Grafton
508-865-4193
Southbridge
508-865-4193
Spencer
508-865-4193
Sturbridge
508-865-4193
Sutton
508-865-4193
Thompson
508-865-4193
Upton
508-865-4193
Uxbridge
508-234-7377
Webster
508-865-4193
West Boylston
508-865-4193
Westborough
508-865-4193
Whitinsville
508-234-7377
Worcester
508-752-3900

---

For Additional Delivery Fee

West Boylston
508-865-4193
Residential Weekly Rubbish Removal

Al's Rubbish now offers Weekly Rubbish Removal in the towns of Webster, Oxford, Sutton, and Millbury. We now accept ACH Payments for weekly pickups.
CALL 508-865-4193 For Our Rates.
Please note: We do NOT accept any amount of yard waste per dumpster; please CALL for yard waste pricing.