Trash On Your Back Challenge April 21 through April 25 2014
Published March 12, 2014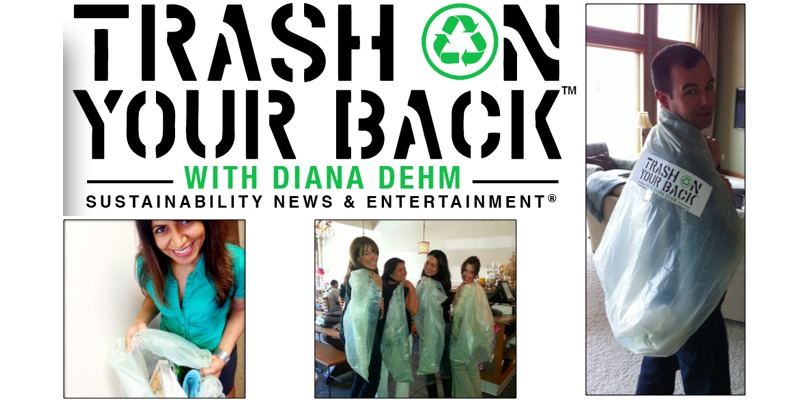 Recently we participated in a local Home and Business Expo. We had a (2) raffles for our visitors to win, we raffled off (2) 10 Yard Dumpster Rentals, while we had many reactions and comments, we left knowing one thing for sure, some people own up to their trash and others do not. When asked if they would like to win a chance for a free dumpster rental, some people smiled and laughed and commented, wow, I need this and would love it and eagerly proceeded to fill out the raffle form. Others looked away as if we were embarrassing them by asking.Let's face it we all have trash, junk, waste, clutter that needs to be removed from time to time, it is a fact of life, no need to be embarrassed about it.
This is why the Trash on Your Back Challenge for 2014 caught our eye. For 5 days if you are up for the challenge, you carry your trash around on your back (no food scraps). Most people who have done the challenge before are amazed at how much trash they are responsible for. This program is aimed at schools so the students will see the full impact of what is disposable and how much waste they actually produce. We all have trash, but it is up to us to keep our trash manageable to help with recycling and to ease the burden on landfills. Check it Out, We found it to be an interesting and worthwhile challenge.
Facebook page for Trash On Your Back
Dumpster Dimensions

10 Yard:  12' long x 8' wide x 3' high
15 Yard:  13' long x 8' wide x 4' high
20 Yard:  14' long x 8' wide x 6' high
25 Yard:  17' long x 8' wide x 6' high
Online Payments
Let the Rubbish Removal experts help you with easy online payments for all our services.

Want to order your dumpster rental online or pay your weekly trash pickup invoice? Click below to head to our online ordering system.
Our Dumpster Rental Service Areas:
Auburn
508-865-4193
Blackstone
508-865-4193
Bolton
508-865-4193
Boylston
508-865-4193
Charlton
508-865-4193
Cherry Valley
508-865-4193
Douglas
508-865-4193
Dudley
508-865-4193
Grafton
508-865-4193
Hopedale
508-865-4193
Leicester
508-865-4193
Marlborough
508-865-4193
Mendon
508-865-4193
Milford
508-865-4193
Millbury
508-865-4193
North Grafton
508-865-4193
Northborough
508-865-4193
Northbridge
508-234-7377
Oxford
508-987-2960
Paxton
508-865-4193
Shrewsbury
508-752-3900
South Grafton
508-865-4193
Southbridge
508-865-4193
Spencer
508-865-4193
Sturbridge
508-865-4193
Sutton
508-865-4193
Thompson
508-865-4193
Upton
508-865-4193
Uxbridge
508-234-7377
Webster
508-865-4193
West Boylston
508-865-4193
Westborough
508-865-4193
Whitinsville
508-234-7377
Worcester
508-752-3900

---

For Additional Delivery Fee

West Boylston
508-865-4193
Residential Weekly Rubbish Removal

Al's Rubbish now offers Weekly Rubbish Removal in the towns of Webster, Oxford, Sutton, and Millbury. We now accept ACH Payments for weekly pickups.
CALL 508-865-4193 For Our Rates.
Please note: We do NOT accept any amount of yard waste per dumpster; please CALL for yard waste pricing.